I love Euro flap "deep V" envelopes.  Immensely.  They add a sophisticated, almost glamorous, feel to a piece of mail.  I have used them for my line since day one.  I even got larger ones to send out small orders of 1-2 cards for my retail orders.  
When I started this line, I used a recycled content white 80# envelope that seemed high quality, and within my budget, too.  I wanted something thick enough that you didn't see the card through the envelope.  You know what I mean?  Some envelopes are just potato chips!  
White fit for the many glorious colors that I offer in my no-holds-barred approach to the art I use.  It's a veritable rainbow of jewel tones and deep moody printed paper.  I had two colors in my cart from one particular envelope supplier who sent a coupon... that was November 2020 - just as I first laid hands on my new cards AND I was about to move in order to save money while I grow the business.  It was a hectic, frantic, wild time - and money was a little fragile in those early days.  I know all of this, I remember it so clearly, because I *did* place the order.  And hours later, I cancelled it, sweating, scared I might literally run out of money (I have been self-funding the start & growth of my line).  
Funny, then, that I just got a delivery of those two exact colors that were in my cart almost a year ago, this week!  I ordered samples from several places, several colors...... (all euro flap, never fear!) and the best color that works with a majority of my line is a lovely blush.  I seemed to have known this from the get go.  
Oh, right.... that's a long intro to announce that my line will now include a colored envelope!  **(roll out times will vary, I do have a few (956) white envelopes that are very nice, indeed!)  Not only do I have 6 colors to make the mail WAY more fun....   I've gone ahead and test printed on two of them with some of my art "dots" for a bespoke, branded (?) look.  I'm a wild huge fan of my art dots and I'm not sure yet how they might be a brand identifier.... Most all of my cards have an art "mess" - but  a few don't.  
That brings me, then, to analysis.  
Art and design are curious and ever entertaining / sustaining enterprises.  I am never bored in pursuit of making, why I make, what I make, how I make, what it says, how it feels, how it looks - and then there's context, content, history, theory, and oh... on it goes.  Sometimes this gets overwhelming, I admit.  Sometimes, I just need to *not* overthink things & just trust the process and the motivation.  This is how I evolved into making my abstract, intuitive messy art lately.  There are fast paced micro-decisions that happen all through the making.  I've always sought out new skills - and then they might lie dormant in a specific sense, but they add to my tool box, nevertheless.  One technique informs another.  There are times I make a start and then have to problem solve my way into a pleasing mess. There's a moment when it's right.  Sometimes, too, I set it aside thinking it's no good - only to return to it months later when I see that it's perfect as is.  
After unleashing my particular & wild cards to the world last November, then launching a more robust collection of over 40 designs in June, and now adding 8-12 new spring & love cards plus pivoting on my envelope decision....  it's time to take a step back and evaluate.  
I really believe in learning by making.  This means that there's only so much planning or thinking about a project before you take action.  You will never know how it will proceed until you make it.  It's absolutely true.  Things won't go as planned.  It may end up very different than you "planned".  You might need to change the whole thing!  Isn't that part of the fun, the learning, the oozy-effervescent-always-changing-EVOLUTION of life??!!  
SO!  Are my art mess dots right for my line?  I have no idea but I know that they light me up - so I had to make them.  I did!  Blush and red envelopes will come with a printed black mess dot that shows the envelope color though it.  This may be temporary.  This may be the future.  I'm not sure yet!  I'll look at it, feel it out, evaluate, ask some peers and some customers.  
All of this change to my envelopes, a key detail for the user experience of a greeting card, came about by 2 nearly simultaneous moments in the past month.  I opened a new case of my special white euro flap envelopes and I could immediately tell they weren't right.  The feel of the paper was all wrong.  It was smooth, flimsy, and not acceptable.  I had two cases of these, as in 2000.  I was lucky to be able to arrange an exchange with the supplier.  They had me send photos of the texture change - you could *visually* see a difference in the texture, not just feel it.  So here I am losing this perfect "white" envelope that ticked many boxes for luxe feel & style - and listening to a newly discovered podcast, The Paper Fold, with 30+ year industry maven, Sarah Schwartz, *making fun of white envelopes* during the first episode I heard!  
Y'all, it was a rough day for a stationery designer.
Here's the thing you should know about me:  I am bold and not afraid to ask questions or reach out - especially when I feel strongly about something.  Hence, I then emailed Sarah Schwartz (who is absolutely kind and generous).  A few days later, to my pleased astonishment, I got a personal reply.  This is very much like a rock star responding to me in my mind.  Stationery celebrity moment.  We had a lovely dialogue about envelope merits and considerations.  She even checked out my line & agreed that with the tumult of color, white did make sense.  (suuuuuper casual mention of Sarah Schwartz checking out my line)
Through this exchange, and needing a new envelope altogether, I took the time to research more envelope suppliers and order samples of colors.  At first, I immediately said OH NO WAY when I compared the colored envelopes to my cards.  In part, it was a little overwhelming to consider matching an envelope individually to every card - I wouldn't want them to clash if the color was off.  I did find the blush again..... and it simmered in the back of my mind for a couple of weeks.  During that time, I reaffirmed my white envelope choice and decided to consider printing on the back flap so that it would stand out in the mail as something extra special.  I did a lot of research on printed envelopes.  Thank you all who made me quotes - I appreciate you!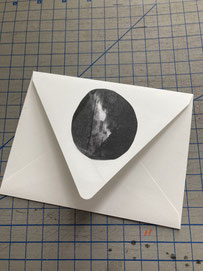 Then one day I woke up  and it was clear that I MUST use colored envelopes.  Just like a switch.  Boom.  OF COURSE I need colors.  
I went back to my samples - some of which were easy to eliminate because the pricing was too high anyway. My baby blush is lovely with about 90% of my line.  It's not bad with the other 10% but I was able to more manageably consider color coordinate on that smaller group.  
Red will go with most of the holiday - but a few are ok with blush!  And one or two will get chartreuse.  My fall cards will transition to a spicy cayenne that works for Shitballs and honestly really is best for F$%# and Baller, too.  A foil card that says "Fuck" calls for more than just blush, ya know?  There's a deep aqua that works for several that need a blue - and one tricky little card that really needed cyan instead of the deep aqua.  Chartreuse works for a couple.  They are all euro flap or contour flap or "deep V", too!  
Details like this are how a line or a company or a brand or a store grows into a cohesive, well considered, and sought after experience.  Attention to detail at a small level shows that you care, period.  That attention will set you apart at a larger scale, too.  
"Details aren't just the details, they make the whole project." - Charles Eames